7 Online Seafood Resources Worth Checking Out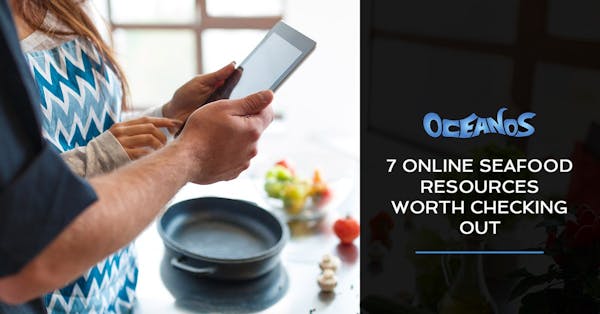 At Oceanos Restaurant, our mantra is quite simple: we love seafood, and we try our absolute hardest to source the freshest possible catches and cook them up with innovative, tasty twists. It's what the Panteleakis family has done for many years. Spoiler alert: we don't intend on stopping anytime soon!
We're Proud To Be Your Go-To Seafood Restaurant In New Jersey
Maybe the love of seafood was passed onto our family by genetics. Maybe we were cooked an incredible seafood dinner at an impressionable age. Whatever our passion for food of the sea can be attributed to, the simple fact of the matter is that we love nothing more than providing the Fair Lawn area with a premier seafood restaurant and oyster bar.
Staying Up-To-Date With Everything Seafood
Due to the fact that we're constantly updating our menu and bringing innovative dishes to the table (literally), the good folks at Oceanos Restaurant also tend to keep up with the latest news in the seafood world. That's a lot to "catch" up on — the ocean makes up about 70 percent of our planet's surface, after all!
Here are seven quality resources online that we visit to get our fix of seafood information.
Dish on Fish
Most people seem to think that cooking seafood is near impossible. It's true that achieving seafood perfection is easier said than done (we strive our hardest to do this every single day), but trying something out at home doesn't have to be as daunting as you'd imagine.
Dish on Fish is a blog written by Rima Kleiner, a registered dietician and licensed nutritionist, that covers various seafood recipes, tips and tricks, health information, and other aspects about seafood that make it more approachable to incorporate in your weekly diet. The blog is sponsored by the National Fisheries Institute in an effort to get more Americans to eat seafood a minimum of two times a week.
IntraFish
If you're interested in the latest seafood news and developments, prices, market fluctuations and analysis, and the technical side of seafood in general, IntraFish is a worthy resource. We'll admit: we're pretty connected with the local seafood scene, and we certainly have our connections, so we don't necessarily need online resources like these to source the best possible seafood for our dishes. Hey, we've been in the business for quite some time!
Now, that being said, IntraFish is still a great way to be aware of what's going on in and out of the ocean. With an average of about 84 posts a week, there's plenty of great content to swim through.
Find a Seafood Recipe
The name says it all. This blog is an easy and effective way to get the latest and greatest seafood recipes, many of which are designed for specific occasions. Whether you're looking for a 20-minute tuna carbonara recipe or you're trying to impress your date with a lobster boil (we recommend simply visiting our New Jersey seafood restaurant instead), you're bound to find some great information on Find a Seafood Recipe.
National Fisherman
National Fisherman is a credible and trusted name in the world of commercial fishing. With origins in print form, National Fisherman has been involved in the seafood media world for five decades and counting. With about four posts per week — completely manageable in anyone's busy life — you'll find insightful and relevant content touching on the latest commercial fishing news, regulations, fish stocks, opinions on purchasing decisions, and more.
Seafood Nutrition Partnership
As you can likely infer from their name, this U.S. nonprofit organization is all about seafood nutrition and how to balance a healthy diet with the help of seafood. Though Feedspot suggests that they only post about twice a month, you're bound to get some good information in your noggin about the benefits of consuming omega-3 fatty acids, what types of seafood are healthier than other types, and so forth.
The Fulton Fish Market Blog
Yes, our go-to source for the freshest catches in the area (with an incredible selection, to boot) also has their own blog! What some people don't know is that the Fulton Fish Market also ships their fresh catches to chefs and restaurants around the country. While these fishy deliveries may not be Oceanos fresh, it's interesting to read posts highlighting different chefs around the country and their signature take on classic seafood dishes. It's reads like these that help enhance our creativity!
Seafood Watch
As part of the Monterey Bay Aquarium, Seafood Watch is an organization (with their own blog) that helps people and companies make better seafood choices for the sake of the ocean's health. With core values centered around sustainability, longevity of fish species, and supporting fisheries and fish farms as opposed to over-fishing, this is a great online resource to do some research and determine what's "ocean-friendly" and what isn't.
What You Eat Matters — Eat At Our New Jersey Seafood Restaurant!
As our own blog would suggest, we really do care about the quality of our seafood and what goes into our bodies here at Oceanos Restaurant. Even more so, we care about what our customers are eating! That's why we only choose the best.
If it's been awhile since you've had your fair share of seafood, then we'd love to welcome you into our seafood restaurant and oyster bar in New Jersey with open arms. Do your health and your taste buds a favor — schedule a reservation today!