A Close Look At Our Menu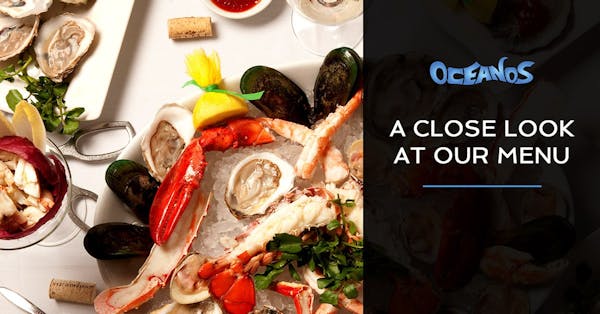 When you put a lot of hard work and dedication into your business, it's difficult not to brag about it a little bit. We've mentioned it before and we'll probably mention it again. Who are we kidding? Of course we'll mention it again: at Oceanos Restaurant, we do things the right way. From scouring the local Fulton Fish Market during the early hours of the morning for the freshest possible catches of the day to firing up the kitchen hours before we open to bake our famous bread, the Panteleakis family simply does not cut corners. It's how we were raised, and it's the only way that we know how to go about our business.
So, what does that translate to you as our reader (and, more importantly, our customer)?
An Unforgettable Experience At Our Fair Lawn Seafood Restaurant
Our goal is to take our years of experience in the hospitality and culinary industries to provide you with an incredible meal that leaves you saying "wow!" from the first bite to the last. Our family at Oceanos Restaurant is confident — almost certain — that you'll enjoy your experience with us whether you're imbibing in our oyster bar, seafood grill, or handcrafted cocktails. Whatever the case, you're going to like what you're tasting!
As much as we can brag about ourselves, our menu is where our seafood restaurant truly shines. In this blog post, we'll be highlighting several entrees, appetizers, and desserts for your liking. If you start salivating a few paragraphs down, well, we won't be too surprised.
Learn more about hosting a private event at Oceanos Restaurant or visit here to read about the history of our legendary restaurant in Fair Lawn.
Lunch Menu
Zucchini & Eggplant Chips
Even if it's just lunch, there's nothing wrong with getting started with an appetizer. We highly recommend our crispy zucchini and eggplant chips. Pan fried and served with a tangy tzatziki dip, this is where Mediterranean food meets modern American fare.
Oyster Taster
We're a renown oyster bar in New Jersey, so you don't want to eat here without giving our oysters a shot. Why not try them all? Our oyster taster lands you each of the following oysters:
Spinny Creek (Maine)

Blue Point (New York)

Pine Island (New York)

Fishers Island (New York)

Kumamoto (Oregon)
For an oyster alternative, we also highly recommend one of our shellfish starters!
Grilled Octopus
Feeling bold? Never tried octopus before? Now is a better time to try it than ever before! Our sushi-quality Mediterranean octopus is wood grilled with onions, red wine vinegar, and extra virgin olive oil. We're confident that you'll come out of this experience as a devout octopus fan.
Shrimp Saganaki
Shrimp lovers, you've met your match. Our Saganaki appetizer features four premium white shrimp pan seared with tomato concasse, bell peppers, white wine, and crumbled feta cheese to top it all off. You really can't go wrong with this one.
Oceanos Sampler
Can't decide on what you'd like? Get a little of everything — including our oysters — with the Oceanos sampler. Enjoy four assorted oysters, four colossal shrimp, four littleneck clams and half a lobster.
Dinner Menu
Grilled Calamari
What would our seafood restaurant be without calamari? Our take on this classic seafood appetizer starts with Point Judith squid. We grill it whole and slice it into rings, tossing it with capers, bell peppers, red onions, and our signature lemon vinaigrette.
New England Clam Chowder
New Jersey isn't quite New England, but we still respect the seafood classics. Also available on our lunch menu, our New England Clam Chowder is as creamy and delectable as it is salty and savory. Split our chowder with your date or feel free to enjoy it all to yourself. We don't blame you!
Mussels Lyonnaise
We're not "lyon" when we say that customers are always pleasantly surprised at our signature take on these New Zealand mussels. Sauteed in dijon, garlic and a white wine broth, we highly recommend following up our soft, house-made bread with mussels Lyonnaise.
Sesame Salmon
For those who appreciate the lean and healthy qualities of salmon, we salute you. Our sesame salmon entree is made just for you, cooked with raspberry beurre blanc and served neatly with a side of vegetable arborio pilaf. If you're looking for something a little more hearty, you can go with our…
20 Oz Prime Cowboy Rib Eye Steak
Feeling like treating yourself? Not the biggest seafood fan on the planet? You're missing out on some truly great eats, but we're accommodating to lovers of "land food." That's why our 20 Oz French Cut bone-in rib eye steak is offered, served with a tantalizing grilled shallot and cabernet demi sauce. We highly recommend pairing this with a cabernet for obvious reasons.
South African Lobster Tail
It doesn't get much better than this, and our regulars agree. Wood grilled with drawn butter and served with a side of roasted lemon potatoes, you can't possibly go wrong with fresh lobster tail on your plate. A truly seafood delicacy while also being a staple, consider splitting this one with your date. Consider adding jumbo lump crab meat stuffing as well (hint: you won't regret it).
Wood Grilled Swordfish
A simple yet elegant dish, our wood grilled swordfish is cooked as you would expect it to be cooked: wood grilled. This entree also comes with a side of roasted lemon potatoes.
Alaskan King Crab Legs
Of course we offer King Crab legs on our seafood menu! 18 oz of crab legs will put you in seafood heaven. With the option to get these crab legs wood grilled or steamed, we'll let you decide what your preference is. After all, this is your high-quality meal!
Double Cup Prime Lamb Chops
Our lamb chops are simple: grilled and then finished in the oven, topped with a rich rosemary Shiraz demi sauce. Naturally, we recommend pairing our lamb chops with a Shiraz wine.
Surf & Turf
Ah, the king of seafood menu options. Why settle for just seafood or "land food?" Get the best of both worlds with our wood grilled South African lobster tail and prime filet mignon. This is a meat combination that's extremely difficult, if not impossible, to beat. Enjoy!
We'll See You At Oceanos Restaurant
Prepping for your visit, our family will make sure that everything is just right for your arrival. When you come dine with us, we want our seafood restaurant in Fair Lawn to not only meet your already-high expectations, but rather, blow them out of the water — literally! Schedule a reservation today.