A Look Into Our Raw Oyster Selection At Oceanos Seafood Restaurant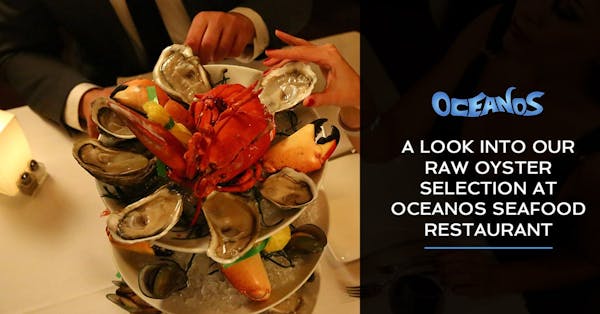 Being close to the ocean, the community has a good selection when it comes to oyster bars in Fair Lawn. Some seafood restaurants feature their selection of raw oysters as a center point of their menu, while others may prefer other types of shellfish to highlight. At Oceanos Restaurant, we have a passion for seafood in general — it's hard for us to choose a favorite, and really, could you blame us? With all of the delicious aquatic life available just a few miles away in the Atlantic, we're always going to have the freshest, most delectable seafood dishes in the area.
Delicious Seafood and Oysters In Fair Lawn Aren't Far From You
This includes our selection of raw oysters, and that serves as the focal point for today's blog post. Oceanos Oyster Bar & Sea Grill is proud to offer raw oysters from Maine, New York, and Oregon, totaling five different types from three different areas. We'd like to take a little time to talk about why we get our oysters from these areas and what their distinct qualities are.
Get the full scoop on our carefully curated oyster selection by checking out our menu, or contact us today to schedule a reservation to experience Oceanos Restaurant in all of its grandeur! Let's get started, friends.
Spinney Creek Oysters (Maine)
First up, we offer this classic but well-loved Northeast oyster. Spinney Creek oysters tend to be much larger than their West Coast "partners", briny to the taste but not overpowering. Spinney Creek itself is an excellent source for oysters, steamer clams, and littleneck clams, promising only the very best in quality and freshness. They're up to Oceanos standards, after all, and we only accept the best seafood we can get our hands on!
Enhance the flavor of these east coast oysters with our signature Oysters Rockefeller, featuring sauteed spinach, shallots, pernot, and herbed gruyere cheese. It's a regular's favorite!
Blue Point Oysters (New York)
Blue Point is a small community within Long Island, situated right on the Great South Bay of New York. Historically speaking, the Blue Point Oyster was the favorite oyster of Queen Victoria.
Though once a highly coveted and sought-after title, "Blue Point" now simply refers to oysters harvested from multiple areas in the Long Island Sound and Connecticut oyster region. This is a great "starter" oyster for those who don't want an overpowering flavor, but still enjoy the fresh and crisp texture along with a slightly sweet and salty aftertaste. Who's hungry?
Pine Island Oysters (New York)
Up next, we don't move too far from the Blue Point area. Remarkably similar in taste to the Blue Point Oyster, Pine Island Oysters also share a rich history and a rich brine. To the experienced seafood connoisseur, Pine Island Oysters typically have a salinity of about 27 ppt, making it not too salty but also flavorful.
It's said that these oysters should be a house oyster staple of every raw oyster bar in New York, and they should be consumed after a Yankees victory. We're not sure what Yankees fans should consume right after a loss, though…
Fishers Island Oysters (New York)
Unlike Blue Point or Pine Island Oysters, those from Fishers Island are unique because they're from boutique East Coast oyster farms as opposed to the open ocean. The Fishers Island Oyster Farm has been in the area for over three decades, providing sustainably-sourced and grown oysters sold directly to consumers and chefs like us.
With a fine brine, exquisite appearance, and a soft finish, it's worth paying just a little bit more for one of these guys as opposed to our previous three oysters (still, you can't go wrong with whatever you choose!).
Kumamoto (Oregon)
Now, we fly clear across the country to the West Coast to source the fabled Kumamoto Oyster. Deep-cupped with relatively petite meats and a mild brine, the honeydew-type finish puts Kumamoto Oysters near the pinnacle of oyster quality. If you're bent on eating our Maine or New York oysters, we urge you to try our oyster sampler so that you get the Kumamoto experience.
Stop In And Visit Our Raw Oyster Bar In Fair Lawn!
Whatever seafood you're hungry for, the Panteleakis family is ready to welcome you with open arms. Inquire about a private party or reservation today!