From The Movies To Our Seafood Grill And Oyster Bar: Fun Date Night Ideas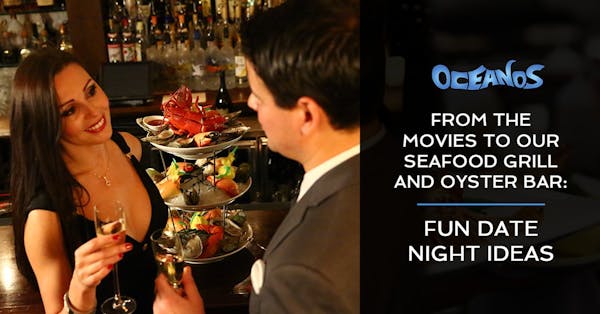 After what seemed like months (and let's be honest, it was well over five weeks), you and your partner finally found a reliable babysitter who you can trust. Every new parent knows that a babysitter is the key to an evening of freedom, and that's something worth celebrating in and of itself!
Whether you're busy raising a family or you're married as young working professionals, sometimes it seems like there's no time to dress up, go out, and enjoy a night to yourselves. The truth is that we simply have to make time for each other in today's fast-paced, data-driven world. As for the best place to patronize? We have the perfect place in mind for you!
Our Seafood Grill and Oyster Bar In Fair Lawn Is Ready To Welcome You
At Oceanos Restaurant, we take a relaxed, laid back approach to the seafood dining experience. Now, this doesn't mean that we're a raggedy dive bar serving questionable food by any means — we're quite the opposite, in fact. Our Top Rated Local® seafood restaurant enjoys the highest rating of any restaurant in Fair Lawn and we're proud of that fact.
No, our relaxed approach to dining means that we treat you like family when you join us. Enjoy a leisurely meal accompanied by handcrafted cocktails, mouth-watering appetizers, and friendly banter from our expert wait staff. Our restaurant ambiance might be classy and tasteful (which it is), but our hope is that you're feeling comfortable and relaxed throughout the entire meal.
We're partial to recommending our seafood grill in Fair Lawn as the number one choice for a date spot, but here are some other great ideas for you and your significant other to get out of the house and enjoy the evening.
Go Check Out Some Local Breweries
Breweries might be a dime a dozen these days, but that doesn't mean that you shouldn't check out the craft beer scene in the area. You're bound to find some good live music on a Saturday or Sunday afternoon at a brewery, and even make some new friends after witty banter and a couple ales.
Rent Your Dream Car For a Couple Hours
If drinking isn't your thing, you may as well use that to your advantage and cruise around New Jersey in style. Why not? With car rental services like Turo, you can rent fun, unique, and downright quirky vehicles from owners who truly care about the condition of their car. Talk about rolling up in style as one of our valet members takes your key!
Go Bowling With Friends
Bowling might be somewhat of a generic date idea, but it's also popular for a reason. That's largely because it's reasonably priced, widely accessible, and easy to do (albeit near impossible to master). Best of all, going bowling means that you'll be able to cheer each other on as you go up to bowl. It's the perfect rotating social experience!
Binge Your Favorite Show (Without The Guilt)
It's easy to get sucked into the latest Netflix original, but often at the cost of multiple hours of sleep. Try to arrange for a babysitter that can quietly watch your kid(s) upstairs or even take them over to their place for a few hours so that you and your significant other can enjoy several uninterrupted hours alone. Then, sit back, relax, and put a serious dent in a show that you're interested in.
Better yet, try watching a new series — now is the time! Just make sure to set a time limit before you get too sucked in.
Embark On A Little Retail Therapy
Retail therapy is strange because it feels good to buy new things, but eventually, you're a little bummed out that you spent so much money on something that's not very practical. Of course, dining at our Fair Lawn oyster bar and grill is very practical because you're eating food, and it also never hurts to treat yourself a little bit with a mini shopping spree before you eat out.
Learn Something New
Whether it's getting in shape with a boxing class or brushing up on a foreign language, there's nothing wrong with attending a class for a date night. Doing so will prove that there's always something new to learn with your partner, even if you've been married for multiple decades.
Have A Picnic On The Beach
We're near the coast, so why not stare off into the beauty of the Atlantic Ocean with a San Pellegrino and a half-eaten sandwich in your hand? The best way to top this off is a great conversation with your spouse.
Create New Memories At Our Fair Lawn Oyster Bar And Grill
We're here to provide an experience that you won't soon forget. Isn't life better when you're enjoying it? We think so. Inquire about a reservation at Oceanos Restaurant and make the most out of your date night!