Here Are Several Reasons Why Eating Seafood Is Healthy For You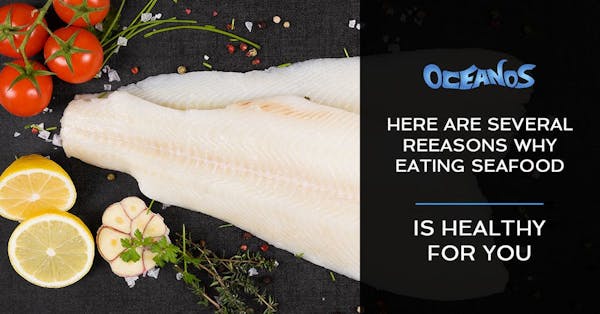 If you're looking for a balanced middle ground between "sole red meat carnivore" and "celery stick vegan," seafood is the way to go. Even better, when you're eating seafood the Oceanos way, you're enjoying expertly curated, locally-sourced dishes that probably taste better than just about any other seafood dish you've ever had. We don't mean to boast about our seafood restaurant in New Jersey too much, as our stellar reviews can do all of the talking for us.
Visit Oceanos Seafood Restaurant For A Healthy, Delicious Meal
It probably wouldn't surprise you to know that seafood is more than just a delectable dining experience. Sure, most people enjoy shellfish and crustaceans for their exquisite flavors, but there are actually a number of incredible health benefits inherent to the seafood experience.
Curious about what these health benefits are, specifically? Keep on reading below to learn more, and once you're sold, feel free to book your table at our New Jersey seafood restaurant!
Low Fat Content
If you enjoy eating meat but hate dealing with the relatively high fat content, then you'll love seafood — generally speaking, seafood contains less than 2 percent fat. Seafood also contains fewer kilojoules than even the leanest cuts of chicken or turkey, so you can dig your fork in with confidence knowing that you're getting a true lean protein experience.
Low In Cholesterol
Many Americans are advised by their doctor to carefully monitor and subsequently lower their daily cholesterol intake. It's not always easy to avoid cholesterol, but you should know that it's possible to enjoy savory seafood without all of the cholesterol. The relatively low amount of cholesterol in most types of fish and seafood is due to the amount unsaturated fats (and lack of saturated fats) contained within.
In fact, in many cases, eating a lean cut of fish a couple times a week can work to lower your overall cholesterol levels, resulting in lowering your risk of heart disease.
High In Protein
Of course, it shouldn't surprise you that just about any type of meat contains a good amount of protein, and seafood is no exception. However, seafood's comparably leaner protein compared to red meat and other types of meat makes it a healthier choice for those dieting or in need of lean meat.
A Great Source Of Vitamins And Minerals
Hold the multivitamin — eating a balanced, seafood-rich diet means that you'll have no trouble getting all of the essential daily vitamins and minerals that your body and brain need to live a happy and healthy life. Specifically, most shellfish and crustaceans are fairly rich in iodine, zinc, potassium, and phosphorus. You'll also find plenty of B vitamins.
Omega-3s
We've written about the presence of omega-3 fatty acids in a previous blog post about how seafood stacks up to red meat (spoilers: seafood is, obviously, much better for you), but it's worth reiterating that seafood contains plenty of omega-3 fatty acids.
The problem with essential fatty acids and other vital minerals and vitamins is that, while our bodies need them, they can't naturally produce them. So, we must seek natural food sources rich with these nutrients, and seafood — especially salmon — is like a nutrient jackpot.
Omega-3 fatty acids have shown to:
And more! How awesome is seafood?
There's Plenty Of Options
Our expertly crafted menu perfectly captures just how diverse seafood is in the sense that there are many options to choose from, more than just fish. From our raw oyster bar in New Jersey to grilled octopus, calamari, shrimp saganaki, mussels Lyonnaise, tuna tartar, grilled lobster, swordfish and much more, there's a lot to love about reaping the health benefits of dining in at Oceanos Restaurant.
Come Visit Our Seafood Restaurant In New Jersey Today!
Healthy, delicious, guilt-free, and exquisitely prepared? Sign us up! For an unbeatable, healthy dining experience paired with friendly, attentive service and an elegant atmosphere, choose Oceanos Seafood Restaurant & Oyster Bar. Thanks for tuning in; we'll see you soon!