What People Are Saying About Oceanos Restaurant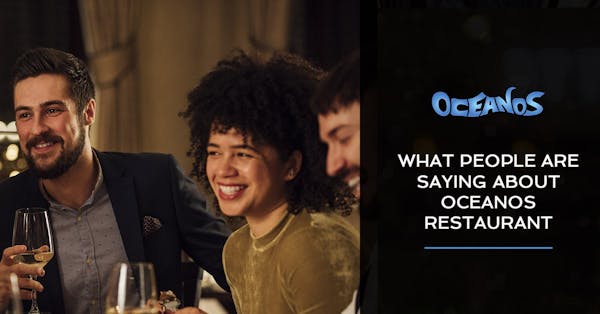 What do you do when you're looking for a particular restaurant? You go to a search engine and type in "restaurant near me." It's 2018, after all — that's the standard for finding businesses. Gone are the days of phonebooks.
We're Thankful For The Praise Fair Lawn Has About Our Seafood Restaurant
At Oceanos Restaurant, we're absolutely thrilled to bear a 4.4-star rating on Google Reviews (based on 218 reviews). Time and time again, we receive generous praise from local guides, or business-savvy experts who live in the area and act as a guiding voice for community members and visitors alike. Is a business really worth their salt if they don't have a good reputation online — especially a restaurant?
When you visit our seafood restaurant in Fair Lawn, we like to think that our upscale atmosphere, friendly service, and absolutely stellar food speaks for itself. However, don't let us do the talking at this point. Let's check out what some dazzled diners have to say about their experience at Oceanos Oyster Bar & Sea Grill!
Cristopher Encourages Others to Visit Us
"An unexpectedly intimate, wonderful restaurant with excellent food and service. If you're within 50 miles of Fair Lawn, New Jersey you should give this place a try."
Cristopher Gunter, 5 stars
While our restaurant is a great place to socialize with large parties, it's also a quiet, intimate spot for couples. We're thrilled that you're happy with your experience, Cristopher.
Julio Has an Incredible Octopus Experience
"Best octopus I've ever had. Great service and ambiance. Pricey but well worth it."
Our octopus tends to be one of the most well-loved items on our menu, and customers are routinely surprised at how delicious it is. We appreciate your appreciation for us, Julio. Quality seafood shouldn't be cheap; you're truly getting what you pay for!
A Stellar Repeat Experience
"I have only been twice, but both times were excellent. Excellent service, excellent food.. great atmosphere! The staff is warm and welcoming and make you feel like you've known them for years.
It's a little pricey, but for good seafood and special occasions, well worth it!!"
When a customer has an excellent repeat experience, that really speaks volumes to us — as does your shining review, Kelyn! Our staff is like our family — inviting, friendly, hard-working, and always smiling. Our goal is to make you truly feel welcome, and we're glad to hear that we're meeting that goal.
Nothing But Praise Over the Course of 15 Years
"I have been dining at Oceanos for over 15 years, dozens and dozens of meals and never been disappointed by the quality of the food and of the wait staff. Barbara and Peter are always the perfect host and hostess."
Diana Westenberger, 5 stars
Your continued business and support for our seafood restaurant means the world to us, Diana. We'll always welcome you, and the greater Fair Lawn community, with open arms.
Share Your Experience With Oceanos Restaurant Today
For those who have dined with us before, we can't wait to hear about your experience. If not, we're even more thrilled for our first-timers! Contact us with any questions or schedule a reservation at our Fair Lawn oyster bar today.