What We Look for to Get the Finest Seafood Possible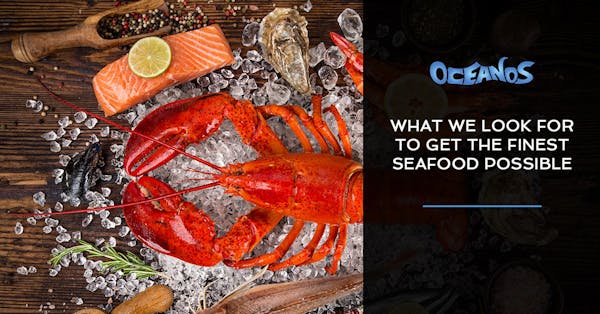 Picking out the freshest catches and choices cuts for the day isn't necessarily rocket science, but it is an important part of the Oceanos Restaurant experience. The Fulton Fish Market, a place dear to Nikos and Peter Panteleakis, is where all the magic begins. Waking up at the wee hours of the morning (our regulars often wonder if the Panteleakis duo ever gets any sleep), Nikos and Peter carefully pan over the day's selection to determine what meets their quality standards.
Only the Finest Will Do at Our Fair Lawn Seafood Bar and Grill
If you're curious about what goes into selecting fine, high-quality seafood, this blog post is for you! Though we're not going to pour out all of the secrets that make our Fair Lawn seafood restaurant so wonderfully amazing, we'll happily go over some of the things that make great seafood....well, great seafood.
Whether you're looking for a great ocean grill and bar in Fair Lawn to host your next private event or you just want to give the gift of great seafood, Oceanos Restaurant can accommodate you!
We Ask Questions
When we source our seafood, we're pretty thorough about it. Here are some of the questions that we'll frequently bounce back and forth to the friendly folks over at the Fulton Fish Market:
When did the product arrive?

Where and when was it processed? (i.e. filleted)

When was it defrosted if previously frozen? (this is not usually the case)

Where was it caught, and what type of bait was it caught with?

Who caught it?
For us, these questions become more of a conversation with the vendors that we work with, but you get the idea.
How Does It Smell?
Interestingly enough, fresh seafood should have very little smell, if any at all. Any present smells should be reminiscent of the ocean. You'd think that fish would smell "fishy," and in that sense, you'd be right. However, when you have a really fresh catch on your hands, the odor isn't too pungent.

Firmness
Fresh, high-quality fish should always be springy and firm regardless if it's a fillet or a whole fish. In other words, when touched, the flesh should have a sort of "bounce" to it. For more delicate fish such as salmon, there should be absolutely zero bruises, breaks, or blemishes in the flesh. This is a sign that the fish was handled poorly before it made it to the market.
Color
Naturally, the right colors that we're looking for depend on the type of fish in question. While most species of wild salmon should be right orange or a deep red orange, fatty fish like tuna should have a deep red color with no brown spots around the edges.
Feel Free to Drop By Our Fair Lawn Restaurant and Ask Us Any Questions!
The transparency of where we source our ingredients — especially our seafood — matters to us. Should you have any questions about where your dish is from or how it was prepared, we can tell you all about it! Contact Oceanos Restaurant today.