Why You Should Book Your Next Private Event At Oceanos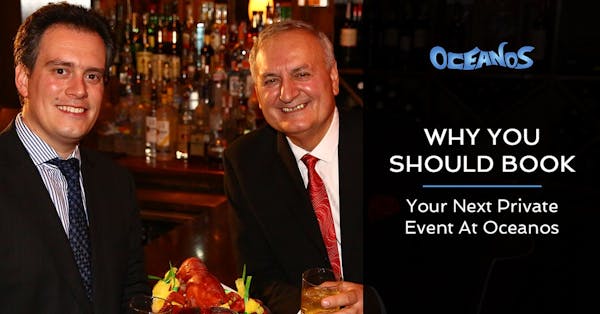 If you're wondering whether you should book your next private event at a Fair Lawn restaurant like Oceanos, here's a better question that we have for you: why not? From a corporate anniversary party to an over-the-hill birthday party, any occasion that's special to you — and one worth celebrating — is just as special to us. That's why our family goes to great lengths to ensure that all of the details are just right and that your treasured evening goes off without a hitch.
Your Experience Is What Matters To Us
Perhaps the value of hospitality simply runs in our family blood, and our regular customers that visit our seafood restaurant and oyster bar tend to agree. You see, our aim is to provide a memorable, unforgettable dining experience whether you're dropping in for a family meal or you're hosting a big private event. That's why our busy chefs work hard behind the scenes to find the time to personally venture out to the front of house and ask how your meal is. It's that signature attention to detail that leaves our customers with a lasting and positive impression of the Oceanos Restaurant experience!
Incredible Food and Exquisite Drinks
Sure, you don't have to book a private event just to enjoy the curated food and drinks that our restaurant in Fair Lawn has to offer. However, know that we will go to whatever length to make sure that your taste buds and stomach are more than satisfied. Our attentive and friendly staff will check in on your party as needed, but without constant interruption as we want you to enjoy your evening with friends, family, or colleagues. Should you have any questions about our menu in terms of where a particular seafood dish is sourced or what one of our famous cocktails is made with, please don't hesitate to ask — the Oceanos team is well-versed in what we offer.
Private Event Expansions In Fall 2018
Coming very soon, Oceanos Restaurant in Fair Lawn is offering a whole lot more to love. With a new wing expansion to our seafood restaurant, we're taking private and special events to a whole new level. This new wing will be a completely sanctioned off area designed to easily accommodate our guests with full privacy from the rest of our dining area. Stay tuned as we'll be releasing more information in the near future!
Let Us Help You Plan Your Special Celebration
At Oceanos Restaurant, every night is our night because this is where we work and what we love doing. When we have guests spend a few hours enjoying curated drinks, fresh seafood dishes and the opportunity to really sit down and socialize with each other over a candlelit meal, we realize that this is not an everyday thing for most people. So, if you have any nitpicky details that you'd like our seafood restaurant to adhere to, please don't be bashful. You and your dining party deserve a flawless experience worth remembering for years to come!
Contact us today to inquire about a reservation.