Why You Should Choose Seafood Over Meat the Next Time You Go Out to Eat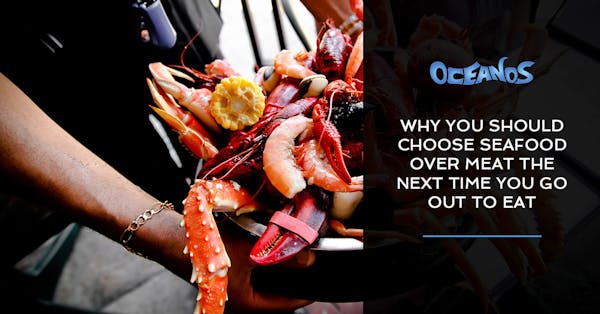 You deserve to break out of the cycle of conventional restaurants. Let's face it: we all love to be wined and dined, to have someone else cook for us and wait on us so we don't have to do it ourselves. Sure, cooking at home can be a very rewarding and even fun experience, but the majority of Americans just prefer to dine out.
Choose Oceanos Restaurant For a Special Seafood Meal With Family and Friends
We're a restaurant in Fair Lawn, so believe us when we say that we get it. You're looking for a dazzling meal, and you're also in search of an unforgettable seafood experience. Well, seeing as you're here now, you've made the right choice.
Time and time again, the Panteleakis family dazzles our customers with the finest seafood in Fair Lawn. It's our passion and our pride to do so, and in this blog post, we'd like to highlight some of the health benefits that seafood has over conventional "land" meats — the turf as opposed to the surf, if you will.
Healthy Fats
"Fats" won't necessarily make you fat. It depends on what kinds of fats you're consuming, how much you're consuming, and the extent to which you're burning off these fats. Seafood generally has higher amounts of good fats known as monounsaturated fatty acids (MUFAs) and polyunsaturated fatty acids (PUFAs). Proven to improve blood cholesterol levels and lower your risk of heart disease, choosing seafood over red meat is a wise move.
Vitamin B-12
Are you wasting your money away on expensive supplements just to get your daily fill of important B Vitamins like Vitamin B-12? In fairness, supplements have their value, but you can get over twice your daily requirement of Vitamin B-12 by eating a standard portion of salmon. Pair that nutritional value with our delicious, wood-smoked taste and what you have right there is a home run of a meal.

A Modest Calorie Content
There's no doubt that a massive porterhouse steak after a long month of working hard is more than satisfying, but you're packing on quite a few calories, especially when paired with a nice mixed drink during your meal. For those on a calorie-restricted diet, seafood has significantly fewer calories per ounce as opposed to red meat. So, go ahead and dig in your fork knowing that you're doing your body — and your taste buds — a favor.
Zinc and Vitamin D
You'll find plenty of these daily nutrients in run-of-the-mill supplements, but if you're looking for naturally-sourced zinc and Vitamin D, it's hard to go wrong with a nice salmon filet or even our signature oyster taster. Either way, yet again, your taste buds win.
Stop By and Treat Your Body to a Healthy, Delicious Meal!
Always getting the best, freshest catches of the day, you're sure to enjoy a seafood experience that you won't forget! The Panteleakis family works hard to bring you a stellar dining experience and they're excited to share their latest chef's creations! Drop by soon and visit our seafood restaurant in Fair Lawn.