It's October — Celebrate National Seafood Month With Us!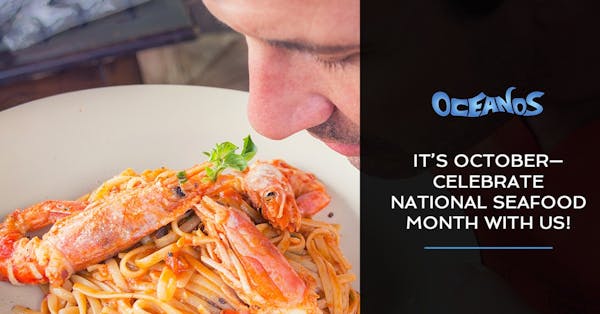 If you're looking for an excuse to dine out and enjoy a truly magnificent seafood meal this month, Oceanos Restaurant has great news for you: October is National Seafood Month. As your go-to Fair Lawn seafood restaurant in the area, we love this month for a number of reasons: the changing of the leaves, the refreshing ocean breeze, the coming of Halloween, and no longer suffering from the summer heat. However, our passion for high-quality seafood is really what makes October so special for us.
Allow us to express our appreciation for all things seafood-related in today's blog post, as well as why we think that you should treat yourself to a nice night out at our oyster bar and private events area. Check up on our Instagram for the latest updates and enticing pictures of our dishes!
A Whole Month Dedicated to Seafood
...is an average month for us! 12 months a year, 7 days a week, the Panteleakis family (admittedly, with some breaks here and there) devises the freshest and most innovative seafood dishes in New Jersey and beyond. From the Fulton Fish Market to the stainless steel counters of the Oceanos kitchen, we're always thinking about seafood, talking about it, and working with it. Simply put, it's our passion.
During the month of October, we're absolutely thrilled to hear that the rest of the world (or at least parts of the United States) are getting as excited about seafood as we are. With this news in mind, how can you celebrate this seafood appreciation month?
Try Something New
Our menu is extensive, carefully curated, and well-established. From our appetizers to our raw oyster bar (we offer raw shellfish as well) to our entrees, we're sure that there's something that's new to your taste buds. Have you had Kumamoto oysters from Oregon or Spinny Creek oysters from Maine? Yes, both of those locations are quite literally across the country and yes, Oceanos Restaurant has them.
Still never tried calamari? You're in the right place. How about Black Sea Bass or Dover Sole? Split a dish with a loved one or order one on your own if you're feeling a little bit adventurous.
Learn More About Endangered Species of Fish
Part of any appreciation month, week, or day is awareness and education. Though there are many important causes and issues around the world worth your awareness and action, endangered ocean species is a topic we urge you to learn more about.
Oceanos Restaurant in Fair Lawn never works with endangered species of fish and we only source our seafood from reputable, ethical, and highly-rated vendors such as those found at the iconic Fulton Fish Market. That means you can be confident about what you're ordering, eating, and savoring at our seafood restaurant and bar in New Jersey.
Appreciate How Healthy Seafood Is
We're not downplaying the health benefits of a vegan or vegetarian diet by any means, but it is true that seafood serves as an undeniably healthier alternative to red meat. Though this blog post isn't an academic article highlighting the health benefits of seafood consumption, feel good about your meal at Oceanos knowing that:
Fish offers many essential nutrients including Vitamins A, B, and D.

Seafood is typically rich in omega-3 fatty acids that have shown to promote good heart health.

Seafood may help fight depression and support the health of your joints thanks to those omega-3s.

Eating fish is a pregnant-friendly diet option and can help enhance fetal growth and development.
Acknowledging the health benefits of seafood is a great way to embrace this year's National Seafood Month and putting these nutrients to use in your body is even better!
Visit Your Local Aquarium
From an educational and entertainment perspective, a day spent at the aquarium is a day well-spent. You'll learn a lot about marine life including what species are endangered or near-extinct and what you can do to help support a good cause. Plus, watching ocean animals swim around is mesmerizing and somewhat satisfying in a way.
Schedule a Reservation at Oceanos Restaurant Today!
Sure, we're completely biased, but we think that a night (or two!) spent dining at our seafood restaurant in Fair Lawn is a fantastic way to celebrate 2018's National Seafood Month. Contact Oceanos Restaurant with any questions and schedule a reservation here.