Our Commitment To You In 2019: Providing A Stellar Dining Experience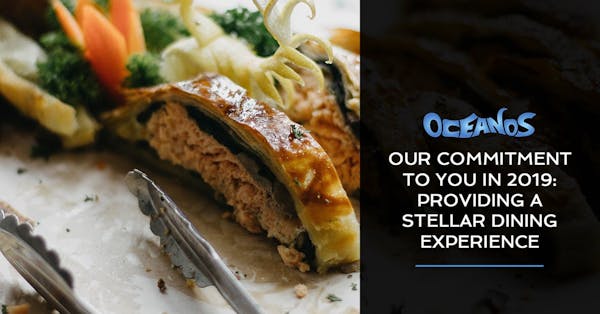 Whether you've followed our blog or you're a regular who's dined in with us a number of times, we're confident that you're already aware of this: we take our restaurant experience extremely seriously. Of course, from the outside looking in, you wouldn't necessarily know that — in the front of house, you'll see nothing but smiles, careful attention to detail, prompt service, and warm greetings.
The Best Seafood Restaurant In New Jersey Wasn't Born Overnight
But in the kitchen, the epicenter of the action, we're working hard for you. It's not chaotic back there; we keep a tight run ship unlike what Gordon Ramsey's Hell's Kitchen would suggest. We don't "crack the whip" on our invaluable team of chefs, either, because we know that our team loves working here. What we're trying to say is that our acceptable standard for what comes out of the ocean, gets prepared, cooked, and plated before arriving in front of you is, as you guessed, extremely high.
High Standards Achieve Desirable Results
Fortunately, our near-impossibly high standards have payed off over the years. Oceanos Oyster Bar & Sea Grill is consistently rated among the best restaurants in New Jersey, let alone Fair Lawn. We have media coverage praising our dishes and our attentive service. We have over 2,474 ratings/reviews posted on six verified review platforms with an average of 4.55 stars. That's true consistency right there.
What's Our Secret?
Our secret is this: we don't have one. It's not rocket science; we take the highest quality, freshest seafood, and combine it with old-world Greek fusion backed by time-honored traditions from our family farm back home in Greece. When you throw in an elegantly designed, warm and inviting atmosphere accompanied by staff that treats you like you deserve to be treated, well, you have a winning mix.
Why We Love Our Work
If it seems like we're bragging about how great we are, know that our hubris lies not in our desire to be the greatest restaurant in the world. It's due to the pride in our work, the craft of our dishes and the "wows" on our customer's faces when they sink in for that first bite. It's due to seeing the same people visiting our restaurant and developing rich relationships over time. It's due to the praise that our customers give us due to our hard work, and the immense fulfillment that comes from it.
Experience Oceanos For Yourself. Schedule A Reservation Today!
We appreciate our readership here on our website, but the only way to really acquaint yourself with our family and the Oceanos dining experience is visit us. Whether you drop by for a casual lunch or a fancy dinner, our commitment to you is all the same.
Feel free to visit here to schedule a reservation, or inquire about setting up a private event with us for a truly special occasion. We're looking forward to seeing you!