Why Our Customers Love Visiting Oceanos Restaurant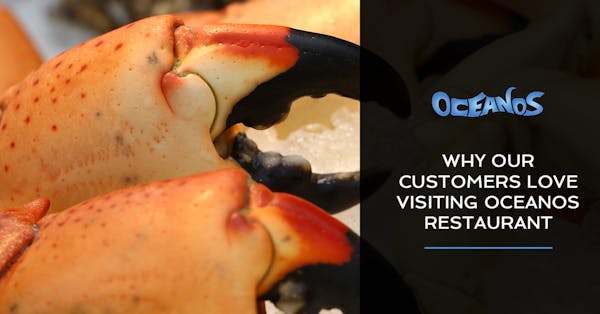 The beauty of the American Dream is that we have the freedom to individually pursue whatever it is that we'd like to pursue. Whether that's amassing as much wealth and as many material possessions as possible or living a vagabond lifestyle by train, it's really up to you as to how you want to live your life.
If you'll allow us to briefly hop on our soapbox, our opinion here at Oceanos Restaurant is that life is too short not to weigh a lot of importance on experiences. There's something incredibly rewarding about experiencing something special in the moment whether it's a live music event, a nice walk through the park with your date, or savoring delicious seafood at a highly-rated restaurant such as Oceanos.
An Evening at Our Fair Lawn Oyster Bar and Grill
Experiences also make great gifts as they often lead to unforgettable memories characterized by cherished time with friends and family. Maybe we're overly sentimental, but that's just our approach to the dining experience. We're a family-owned Fair Lawn seafood restaurant that treats our customers like nothing but family. It's how we were raised and it's our intention to uphold the same values we were raised with.
At the end of the day, people join us simply because they're getting an experience they just can't replicate at home. However, there are a number of special reasons as to why New Jersey residents consistently make a reservation or host a private event at Oceanos Restaurant. Here are a few.
Unmatched Service and Attention to Detail In a Comfortable Setting
When you visit just about any fine dining restaurant, you're going to receive stellar service — or, at least, you should be receiving above-average service. That's to be expected. We appreciate a Michelin Star restaurant just as much as the next food critic, but many fancy restaurant environments just seem overly stuffy.
We encourage our customers to dress up if that's like you'd like to do, but it's hardly a requirement for us to welcome you through our doors. Sit back, relax, and enjoy your experience in a comfortable environment. After all, you're paying to be here, so shouldn't it be enjoyable instead of awkward or uncomfortable?
They're Getting Fresh, Top-Quality Seafood
Early in the morning, every morning, we head to the famous Fulton Fish Market to source only the best catches we can find. You'll never have to wonder if your seafood is fresh or where it came from; our waiters can answer those questions in such detail that you might regret asking about it in the first place!
They're Enjoying Unique, Expertly-Crafted Dishes That Can't Be Found Elsewhere
Even if you decide to make seafood at home and you head over to the Fulton Fish Market yourself, you still have to buy all of the other ingredients and put everything together. We don't mean to brag, but that's easier said than done. The Panteleakis family has years and years of experience under our belts crafting the best-tasting, melt-in-your-mouth seafood dishes possible. Can you really replicate what's on our menu?
We Can Host Parties
A seafood party might not be your traditional idea of a party venue, but our recently expanded private events area at our oyster bar and seafood grill is the perfect space to host any type of event from a corporate celebration to a 50th birthday party. What can we say? We love celebrations.
We're Consistent
There's nothing worse than having multiple positive experiences at a restaurant, gaining their trust, and then coming back with higher-than-ever expectations just to be let down. We call that culinary betrayal, and it's something you'll never have to experience at Oceanos Restaurant.
Our seasonal dishes might fluctuate relative to what's fresh in terms of seafood, but our overall quality and friendly service will never change.
Stop By Our Fair Lawn Oyster Bar For an Unforgettable Experience!
Nothing brings us greater joy than sharing our love of seafood with fellow New Jersey residents (and hey, maybe even a few New Yorkers, too). From our delectable appetizers and zesty, handcrafted cocktails to our professionally curated seafood entrees, you can't go wrong choosing Oceanos Restaurant as an eating experience.
Questions? We're here for you! Contact us today.